Agustin Diaz Yanes
---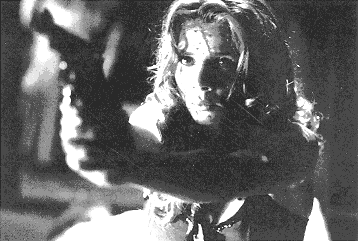 Nobody
Will
Talk
About
Us
When
We
Are
Dead
(Nadie hablara de nosotras cuando hayamos muerto)

---
Gloria Duque was happy. Juan, her husband, earned quite a lot of money as a bandillero in the bull ring. They lived with her mother-in-law, Doña Julia, who became the mother Gloria never had. But Juan came up against a bull and Gloria, desperate, started to drink. Having lost all hope, she left for Mexico where she sometimes worked as a prostitute. There she was an involuntary witness to the murder of two policemen and, frightened that the criminals might want to eliminate her, decided to return to Spain. Now she has to decide between the way marked out for her by her mother-in-law, that of accepting poverty with dignity, or getting money by doing small hold-ups. Meanwhile, the Mexican mafia has sent Eduardo Guzmán to find Gloria and kill her.

---
Director: AGUSTIN DIAZ YANES
Script: Agustín Díaz Yanes
Photography: Francisco Femenia
Music: Bernardo Bonezzi
Cast: Victoria Abril, Federico Luppi, Pilar Bardem, Daniel Jiménez Cacho
Running time: 104 m.
Production: Edmundo Gil Casas - Flamenco Films, S. A.

Co-production: Xaloc, S. A. (Madrid)
---

Austin Diaz Yanes

---

Madrid, 1950. A graduate in History and university lecturer. He has translated several books and worked as a literary critic for the publications "Cambio 16", "Diario 16" and "El Socialista". He wrote the scripts for the films "Baton Rouge", by Rafael Moleón, "A solas contigo", by Eduardo Campoy, "Demasiado corazón", also by Campoy, and "Nadie hablará de nosotras cuando hayamos muerto", his first work as a director.

---

Back to page "Autori"